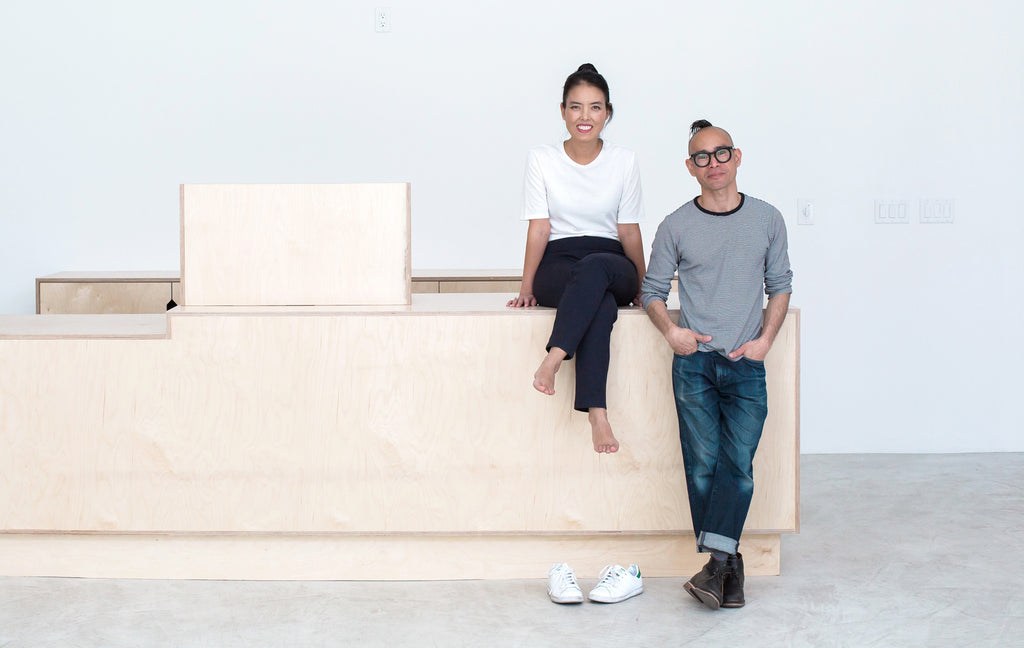 Poketo
(pronounced "poh-keh-toe")
is an LA start up and now a creative home base online and in store. Ted and Angie (husband and wife duo) built this colorful lifestyle brand in 2003 with the desire to bring carefully curated collectables to the consumer with pure and honest design intention. Fueling artists to push the boundaries in the retail sector and supporting them, we were very excited to hear from them about all things art and design in our latest journal feature. 
1. We're such big fans of your style. How would you describe your aesthetic (when it comes to home decor)?
Poketo is bright, fun, pops of color, minimal, unafraid. Our home is a bit of Poketo, but, also very different. We intentionally make our home different than Poketo stores. We are surrounded by stimuli and color at Poketo, when we get home, we yearn for a palette cleanser. Our home is pretty minimal, all white, very select artworks on the walls. We live in Mount Washington, up in the hills, a place that feels like a retreat from Los Angeles. We hear owls and coyotes at night, that is perfect for us.
2. Art is so personal, and searching for just the right pieces for your home can be daunting. What do you look for when shopping for artwork?
There has to be a personal connection. The pieces we have on our walls, they are from friends, people we know, love and are connected with. Having art that is personal is important and it's a reminder of friendships, a time, a place. Also, the right piece will give you that feeling that you long for in a home... We have some colorful, bold, graphic art pieces in our home from artists and it pops on the white, blank walls... giving a sense of peace and zing!
3. What's your go-to when you need a little creative inspiration? A favorite blog, magazine, or podcast? Or maybe a museum or shop?
Traveling is the best inspiration. Walking down streets that are brand new, discovering new things, being in your thoughts and also mindful of smells, feels, sounds... things like that. Even if it's a walk around the neighborhood, trying to notice things you would normally zip by. Morning coffee and looking out the window is also great.
4. What's the best piece of advice you've ever received when it comes to designing your space?

Things can change and they should over time.
5. Our own home is full of mementos from our travels—and our adventures around the world have inspired some of our favorite Print Shop pieces. What place that you've traveled to has inspired you the most?
We rented a van and traveled around Iceland. The Van had a platform bed in the back and a place to store all of our stuff. We would just drive and then when it was time to sleep, we would pull over and sleep. There was a time we drove in crazy, dangerous, rainy conditions. We could barely see in front of us. We pull over off the road. When we woke up in the morning, we were in front of a raging waterfall. It was amazing. Traveling in a van showed us we can live a really simple, adventurous life. We actually want to buy one someday.
6. If you were to get a round trip ticket to anywhere, where would it be?

Right now, it would be Italy to tour the coast and Tuscany. I have not been. And to eat great food.
7. What's your best kept secret? A favorite blog that gives you endless ideas? An Etsy shop for the perfect Turkish rug?

I try to stay away from blogs and online stuff. I like to be outdoors, that is my best secret.
8. Last but not least, you know we have to ask... what's your favorite print in the Max Wanger print shop?
This one! It's peaceful, it's a happy place, I love Big Sur, and this portrait of the sea and sky and colors fading captures a feeling, like taking a big, satisfying breath. Exhale.
Photo of Ted + Angie by Bonnie Tsang