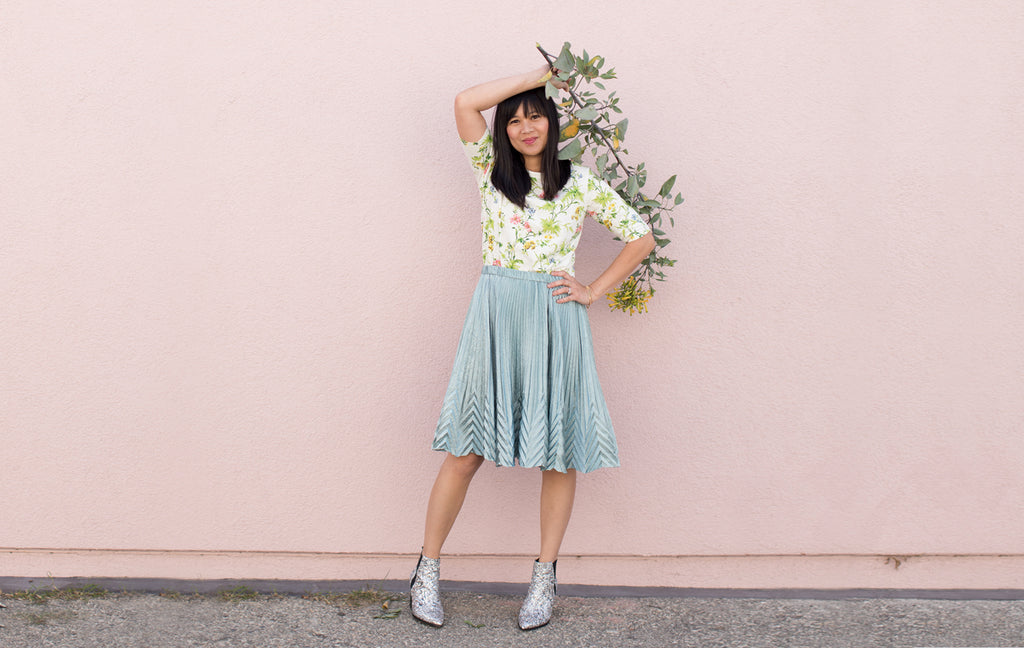 Here at the shop we like to surround ourselves with inspiring friends, and Joy Cho certainly falls into that category. Founder and creative director over at Oh Joy!, what she once started as a small blog, has turned into a mecca for design, fashion, food and all things joyful. Join us while we chat with her and find out where her biggest ideas come from. A hint: It's behind a curtain...


1. We're such big fans of your style. How would you describe your aesthetic (when it comes to home decor)?
My home decor aesthetic is: feminine, vintage-inspired, with a touch of glam. I always love to add some surprising elements which may include a fun use of color
. 
2. Art is so personal, and searching for just the right pieces for your home can be daunting. What do you look for when shopping for artwork?
I look for pieces that feel special and unique, but something I think I'll like for a long time. I also like pieces that I feel like could eventually go into my kids' rooms as I love to rotate art within my home
.
3. What's your go-to when you need a little creative inspiration? A favorite blog, magazine, or podcast? Or maybe a museum or shop?
Honestly, I just need to walk around, leave my desk, and take a break from whatever I'm doing. Forcing creativity while sitting at your desk in your normal routine is often how we get stuck in ruts.
4. What's the best piece of advice you've ever received when it comes to designing your space?

Don't overthink it. Sometimes when you are looking for something very specific, you have a hard time finding it. So I tend to collect things as I go and adjust rooms over time. It's hard to put the pressure on yourself to have a room be 100% complete all at once (both from a cost perspective and from a creative one). Sometimes, you need to design it 50-75% of the way, then live in it for a bit, and then finish it after you have gotten to live with the space/flow/design of it
.
5. Our own home is full of mementos from our travels—and our adventures around the world have inspired some of our favorite Print Shop pieces. What place that you've traveled to has inspired you the most?
My family is from Thailand so that will always be a place of inspiration to me whether near or far. The colors, the food, the people…it's all so amazing. I only wish I could go more often!
6. What's your best kept secret? A favorite blog that gives you endless ideas? An Etsy shop for the perfect Turkish rug?

A notepad in the shower! Really! I often come up with new ideas in the shower, and then they would be completely forgotten about by the time I'm done 10 minutes later ha! So my life coach sent me a shower-proof notepad she ordered on Amazon and it's been the best thing ever.
7. Name two IG accounts that you go to for home design inspiration?

@etcforshort   / @sarahshermansamuel / @greenhouseinteriors / @reutovdesign
8. Last but not least, you know we have to ask... what's your favorite print in the Max Wanger Print Shop?
Well, I'm probably biased because I love "Ice Cream"…both the actual treat and also the print because those are my husband's and my hands in it! That was a fun shoot we did with Max YEARS ago, and was excited to see him add it to his shop! I also love "Family of Four" which sits in my office at the Oh Joy! studio.